Capital Connexion is a joint initiative of Zone Startups India and FundEnable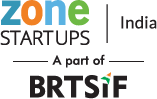 Zone Startups India, a BSE group company and an incubator for startups has been supporting innovation & entrepreneurship for almost a decade. Our flagship Incubation program ZSI Nurtery offers capital to early stage startups through NIDHI SSS fund & Startup India Seed Fund. Through multiple hands-on Accelerator programs, we continue to add immense value in the growth journey of startups. With our deep relationships with Venture Capital funds, we help startups raise up to series A round of investment on our fundraising platform - Capital Connexion.

FundEnable is a fundraising platform for startups created by investment bankers & entrepreneurs. We soon realised that entrepreneurs did not necessarily understand the technicalities of raising capital & often became victims to the wrong advice of inexperienced mentors. We founded FundEnable with the aim of providing qualified, tangible & affordable fundraising support to entrepreneurs. Drawing from our practical experience of raising funds, we developed an extensive suite of learning content, tools, templates, & other resources.